$350 and a Duck - Just Sayin© - September 29, 2008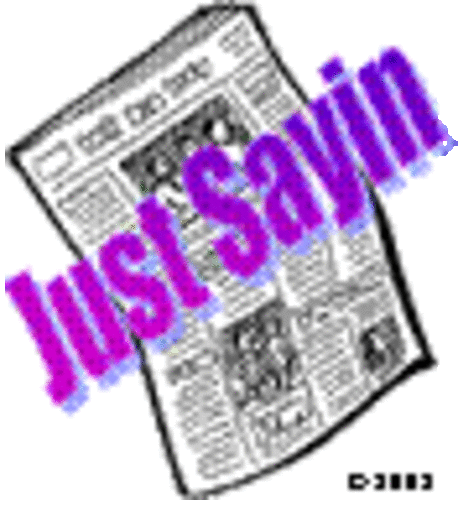 Posted By: Michelle Diane on September 29, 2008

Hey ya'll, wassup? Kind of strange to be here on Monday. Not my favorite day of the week, it always seems to sneak up somehow. So, how'd your day go? Was it productive and prosperous or are you like me, just trying to figure out where the hours went. One way or another, we're glad you stopped by; put you feet up, relax and check out the best of African American cyberspace. As always, I hope you enjoy today's Just Sayin.


My Two Cents

Discover How The Power of Giving Can Change Lives. I was scouring blogs for today's Just Sayin, and that title grabbed my attention. Those of you who know me know why. By the last sentence, "Interested in sharing a gift and changing a life?" I was completely captivated, and answered a resounding yes. So, I emailed the author for more information. He sent me a very professional PowerPoint presentation and a link to his website.

Turns out what I discovered was another gifting program. As often as not, gifting programs require a large investment and offer little return, warranting only a no thank you and moving right along. This gifting program is very different, and ya'll need to know.

Elite Activity Resurrected bills itself as, "The World's first Interdenominational Belief System on the Internet!" They are a 501 c 3 church organization and the website indicates Baptist Minister Rev. Henry W. Curtis, Jr. is the Senior Pastor. The site is replete with prayers, inspirational quotes and Bible scripture; Christianity flavored spirituality is clearly the primary hook Elite Activity Resurrected is using to promote their "gifting" plan.

I admit to feeling vague offense at the concept; I needed more understanding about where Pastor Curtis is coming from. So, I clicked on "Welcome From the Founder" and, oops, it's not the pastor, but a man named Harvey J. Dockstader Jr. A man who, in 2007, the 14th Court of Appeals in Houston affirmed a two-year sentence and levied a $10,000 fine against for "promoting a pyramid promotional scheme." Dockstader claimed his Web site, dubbed Elite Activity, was inspired by God and based on the teachings of the Bible. The court disagreed and found him guilty of violating the Texas Business & Commerce Code. Elite Activity Resurrected's founder, Harvey J. Dockstader Jr., is a convicted crook.

There's more. Dockstader also has ties to the Fundamentalist Latter Day Saints. Ya'll remember this group. Earlier this year, Texas authorities removed over 400 children from the church compound in the largest child molestation investigation in United States history. Though not charged Mr. Dockstader has allegedly been a subject of the **** investigations in Eldorado Texas and Colorado City Arizona. I'm disturbed that this ostensively Christian organization is a front for a renegade cult.

I contacted a member of Elite Activity Resurrected who told me that the only financial benefit FLDS garners from Elite Activity Resurrected is the nominal $16 monthly charge members pay for their websites. This member further told me that Elite Activity Resurrected currently boasts upwards of 200,000 members; that's 3.2 million dollars monthly into the cults coffers.

I won't call Elite Activity Resurrected a scam, but if it walks like a duck and quacks like a duck…Just Sayin



Shout Outs

National Mental Health week is coming and the subject is getting a lot of media attention lately. Agnes Levine shares how the misery of mental illness can become a ministry to others in This Little Light of Mine: The Bright Side of B-Polar.

Your kids know how to spend the money you work so hard for, but do they have a clue how to make money work for them? Kids money matters; let Sonia Sutherland-Cruz show you how in Financial Literacy for Young Adults and Teens.

Jesse & "Uncle Tank" (Hidden Crimes Against Children) by Theresa Harvard Johnson. The title say it all; this poignant tale is a must read.

Is John McCain offended simply by Obama's race and youth? Is the uppity upstart just too much for the old man to take. Nojojojo thinks so; find out why in The Subtext of McCain's Anger


In Their Own Word

Today we are especially blessed to hear from Life Coach, Author and Possibilitarian Chris Gloss. His new book, "When Things Go Wrong, Don't Go With Them" is a manual for blazing your pathway to personal and professional development.

What is a Possibilitarian?

A Possibilitarian is one who lives by faith and focus on the possibilities rather than the impossibilities.





It's a person who refuses to give up when faced with seemingly insurmountable challenges and situations. It's having the attitude of "there is always a way" rather than "there is nothing else we can do". A Possibilitarian is one who walks by faith and not by sight.

What do you have to give?

I want to personally help the first 5 people who email me at http://www.chris@chrisgloss.com to finish this year strong. I want to give five 30 Minute Performance Coaching Sessions ($350 Value) away free to those who are willing to take action today. After the first 5, I will send all who reply a free motivational mp3 ($49 Value) to download that will inspire them to reach for their dreams and goals with passion.

What most needs to happen in the African American Community?

I believe we need to view ourselves as a nation who possess a rich culture and develop an honest dialog about our future. We must rid ourselves of the "I" mentality, which is slowly eroding our ability to unite. There is no way for us to succeed as a people if we don't work together and become "my brother's keeper". Believing that only some of us can make it while leaving the masses of people to struggle is a bad thinking process. It has not and will not work; in fact we have become a people who prey on ourselves. It deeply saddens me to see how many view those in our community who are suffering as an opportunity to build personal wealth. We need to view each other as part of the generational wealth for us all. Last year, we generated over $700 billion dollars as a community and instead of taking care of Katrina victims ourselves, we found comfort in blaming the government for our lack of compassion for our own.

When things go wrong how do we avoid going with them?

"You will be the same person in five years except for the books you read, audios you listen to and people you meet." -Charlie "Tremendous" Jones

When things go wrong in your life, career, relationships or finances consider these few keys:

Monitor What You Read – The best way to quickly get out of your situation is to increase knowledge. Your best thinking has you in your current situation. You need to get out of your mind. My favorite book says, "You must be transformed by the renewing of your mind." Spend time reading material that will strengthen your weakness.

Monitor What You Hear - Turn your car into a mobile university. Listen to material that will build your faith and starve your doubts. Listen to motivational, spiritual, relationship and wealth creating CD's while driving to your destination.

Monitor Your Relationships – Based on an extensive study a major university concluded that, "You will earn within $5,000 of your 5 best friends". If you hang around losers you will end up a loser. Upgrade your relationships! Get positive and faith-filled people in your life.

Monitor Your Mouth – What you say directly impacts your attitude. Make a list of positive affirmations to say daily that will build your faith, improve self esteem and make you feel like the winner you were born to be. Maintain a positive outlook in the future.

Monitor Your Health – "Nothing taste as good as health feels." Exercise on a daily basis. If you don't have good health…you have nothing. Check with your doctor about the best exercise program for you. Reduce the amount of junk you put in your body. Sugar tastes great but can be an enemy in your body if abused.



A Provocative Question

New Voices and Visions member, This is Bren wants to know Are Your Words Encouraging?



Learn Me Something

You got the dreaded diagnosis, and the idea of daily pills and shots terrifies you. Is there anything else you can do? Damu Johns shares What supplements or herbs can help control type-2 diabetes?

You've finally put the final period on your manuscript, and you're ready to publish. You've decided to do it yourself, but you unsure what to expect financially. Pam Perry explains The cost to publish a book: Solo or With a Publisher.



Get Out The Vote

The deadline for voter registration is just days away in many states. The future of our country is a stake like never before. If you are not registered to vote in this critical presidential election, REGISTER NOW. Forfeit your right to participate; forfeit your voice. Just Sayin


Thanks for reading Just Sayin; I hope you found it entertaining and informative. If you know a new blog, blogger, video, group or network you'd like to see featured in Just Sayin or if you have suggestions on how we can improve, stop by your network's Just Sayin group and tell Just Sayin about it.

Do me a favor? Stay just a minute more and leave a comment. I'm grateful for the opportunity to share with you and I care what you think. So please don't go without having your Just Sayin. Peace.




Just Sayin Copyright © 2008 Michelle Roberts

If you enjoyed this article, Join HBCU CONNECT today for similar content and opportunities via email!