Southern Homecoming Traditions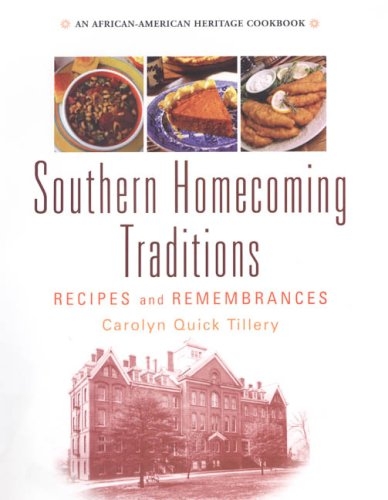 Posted By: Carolyn Tillery on October 02, 2009

Food, Football, Fall...it must be homecoming in the south. ...

Tailgaters arrive while early morning dew is still fresh on the ground. Soon an commuity of brightly colored tents and shiny campers spring up. Grey smoke winds upward crowning the tops of Georgia pines before completing its heavanly ascent. Bright sunlight filters through tree tops as ribs sizzle to mouth water perfection and the stands slowly fill with fans.

Food, football and frenzied fans are southern traditions.

Southern Homecoming Traditions is a cookbook and a celebration of the five historic black colleges and one university that comprise the Atlanta University Center: Morehouse, Spelman, and Morris Brown Colleges, Morehouse School of Medicine, Interdenominational Theological Center, and Clark-Atlanta University. Author Carolyn Quick Tillery uses the evocative power of food to take us back to the institutions where so many great African-American leaders were educated, and the region where so many great dishes were created. With over 200 mouthwatering recipes, along with powerful history, moving remembrances and stunning archival photographs, this book is a homecoming table laden with memories, pride and pleasure.





So take a seat and dig in!
A Sampling of the Recipes:

MAIN DISHES
* Spicy Fried Chicken with Spicy Tomato Salad
* Sunday Collard Greens with Rice and Ham
* Blazing Jalapenƒko and Turkey Greens
* Black-Eyed Peas with Smoked Ham

BREADS AND DESSERTS
* Ginger Cookies
* Mother's Cake
* Georgia Peach and Praline Pie
* Peanut Butter Cake with Chocolate Amaretto Frosting
* Sweet Potato Cake with Pineapple Filling and Cream Cheese Frosting

A melting pot of speeches, songs, stories, and photographs, Southern Homecoming Traditions illuminates the whole of the African-American experience. Enhanced by inspiring African proverbs ("Teach a woman and you teach a nation") and touching remembrances, this is both a sumptuous cookbook and a joyous living history of black America's ever-continuing influence on American cuisine and culture.

Join me in the kitchen to celebrate Black History Month as I discuss my newest HBCU Cookbook, southern Homecoming Traditions with the Food Net Work: Carolyn Quick Tillery on The Food Network
Source: www.youtube.com
Carolyn Quick Tillery talks about The African-American
If you enjoyed this article, Join HBCU CONNECT today for similar content and opportunities via email!